These are some very short excerpts of eLearning programs I have authored professionally, in a variety of authoring tools.
How to Avoid Illegal or Inappropriate Interview Questions
in Adobe Captivate is a 15 minute stand-alone learning object designed to remind interviewers and interviewees what questions can't be asked and one doesn't have to answer in an interview. This is designed to be interactive and scenario-based and was authored in less than 8 hrs, having all the assets ready to go.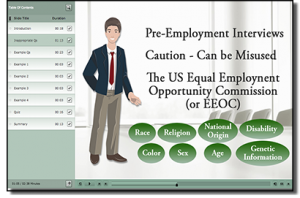 Overview of the Domain Name System
in Adobe Captivate was designed to teach very fundamental concepts for newly hired technical support staff, then test their understanding using similar diagrams as used in the lessons. More applied and on-the-job eLearning modules follow this program. This version runs up through the slide stating course objectives.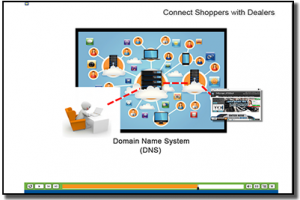 Evaluation Ethics 
in Articulate Storyline is rapidly developed elearning with a limited text-to-voice soundtrack. It's also designed to be interactive and scenario-based. Here we explore some of the sticky questions around evaluating a program (the E in ADDIE) and the ethical responsibilities of the evaluator.